Mouldings >> Crown Mouldings
Crown Mouldings and Coping Cut from Menominee Forest Wood
The expert craftsman at MTE Millwork cut high-quality crown mouldings for capping walls and cabinets. Architects, interior designers, remodelers and cabinet installers can offer their clients elegant moulding by partnering with MTE to supply their millwork products. When it comes to supplying quality wood flooring, wood base or custom wood products, MTE Millwork is clearly a cut above the rest.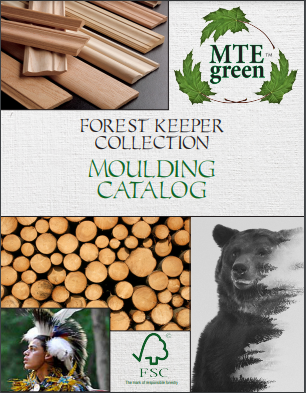 Crown mouldings give homes a simple upgrade to decorative design, creating an elegant transition between the 90-degree intersections of walls and ceilings.The millwork experts at MTE use high-quality kiln-dried woods from the Menominee Forest to cut crown mouldings for homes and businesses. We have crown mouldings available in many sustainable wood species, including:
What Size Crown Moulding Should I Use?
Getting the correct size of crown molding is essential to attaining the proper look for rooms. Larger and taller rooms will be able to have wider mouldings, but that same moulding width will make a smaller room feel cramped and the design look out of place.
At MTE's Millwork Division, there are a number of different crown moulding profiles and sizes to Accommodate many different sized rooms.
Eight Foot High Ceilings - 3" to 5 ½" wide Crown Mouldings
Nine to Ten Foot High Ceilings – 4.25" to 7" wide Crown Mouldings
Taller than 10 Foot High Ceilings – 7" or wider
| | | |
| --- | --- | --- |
| Dimensions | Unit | Design |
| ¾" x 4 ¼" | MCR 101 | |
| ¾" x 3 ¼" | MCR 102 | |
| ¾" x 3 ¼" | MCR 103 | |
Contact MTE to find out more about the different crown mouldings available for purchase.